MANAMA, Bahrain and DUBAI, United Arab Emirates, April 10, 2018/PRNewswire/ —H.E. Mr. Alfred Simms-Protz, the Ambassador of the Federal Republic of Germany in Bahrain today inaugurated a new Visa Application Centre in Manama, which will be operated by VFS Global, a leading outsourcing and technology services specialist for diplomatic missions worldwide.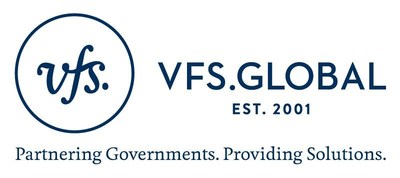 (Logo: http://mma.prnewswire.com/media/624234/VFS_Global_Logo.jpg )
In a joint statement, the German Embassy of Bahrain and VFS Global said the new visa centre, which went live on April 8 2018, will bring enhanced convenience in visa processing services and biometric enrollment formalities to residents of Bahrain applying for Schengen visas to Germany as well as to Belgium, the Netherlands, Luxembourg, Norway, Finland, Sweden, Iceland and Slovenia.
These countries are represented by Germany for the issuance of Schengen visas. The processing time for a Schengen visa is 15 days maximum; visas can be applied for up to three months before the planned date of travel.
The VFS Global German Visa Application Centre in Manama is located at Diplomatic Commercial Tower, 18th Floor. Visa applicants can direct their queries and appointment requests to the call centre number +973 17516 545 or communicate with the centre at info.germanybh@vfshelpline.com
Commenting on the new visa application centre, H.E. Mr. Alfred Simms-Protz, Ambassador of Germany to Bahrain, said, "I am delighted to announce the opening of the new Visa Application Centre Manama, which will offer prospective travellers to Germany and other Schengen countries a faster and more comfortable service. The centre will be operated by VFS Global, a highly experienced and professional company that has been mandated by the German Federal Foreign Office to process visa applications in around 20 countries across the globe. I am confident that our new cooperation with VFS Global will make for an overall better visa experience for visa applicants from Bahrain. The final decision on the granting of visas will remain with the Embassy."
VFS Global is mandated by the Federal Republic of Germany to handle visa applications including collecting biometric data across 10 countries in Middle East and North Africa (MENA) under the terms of the contract valid up to 2023.
It is anticipated that VFS Global will be handling approximately 200,000 visa applications for Germany in the region annually. Apart from the Middle East, the company already operates Visa Application Centres for Germany in nine countries across the globe.
Mr. Vinay Malhotra, Regional Group COO for Middle East, South Asia & China, VFS Global, said, "The opening of the Manama Visa Application Centre is in line with the mandate awarded to VFS Global by the Federal Foreign Office of Germany to operate Visa Application Centres in the MENA region. The role of VFS Global is non-judgemental and encompasses initial processing of visa applications submitted by prospective travellers to Germany. The decision on granting visas is taken by the German Embassy in Bahrain."
He also said the German Visa Application Centre will be run by well trained professionals. "We ensure that the application process in our center takes maximum 40 minutes and we are confident that Bahraini and non-Bahraini travellers will be delighted at the convenience, efficiency and ease of access VFS Global offers to its customers."
The VFS Global Visa Application Centre for Germany will provide secure and time-efficient processing of entry permit requirements in a friendly ambience. Applicants can also opt for the comfort and privacy of a Premium Lounge.
Some of the key features of the centre include convenience in terms of location, automated queue governance for smooth flow of applicants and a dedicated website for easy access to information including visa categories, requirements, check-lists and applicable fees. Apart from these, VFS Global staff is well trained in secure handling of passports, documents and personal information. Door-step delivery of passport is also yet another service VFS Global offers.
Select link to view image:  http://www.vfsglobal.com/news_events/events.asp
About VFS Global
VFS Global is the world's largest outsourcing and technology services specialist for governments and diplomatic missions worldwide. With 2574 Application Centres, operations in 137 countries across five continents and over 165 million applications processed as on 28 February 2018, VFS Global is the trusted partner of 58 client governments. VFS Global's worldwide operations are certified ISO 9001:2008 for Quality Management System, ISO 27001:2013 for Information Security Management System and ISO 14001:2004 for Environmental Management System. For more information, please visit http://www.vfsglobal.com.
Media Contact
Peter Brun
PeterB@vfsglobal.com
Source: VFS Global