نيمار جونيور يبدأ مهمته كسفير لماركة تي سي أل العالمية في مدينته ساو باولو
ساو باولو، 19 نيسان/أبريل، 2018 / بي آر نيوزواير / — بدأ نيمار جونيور، وهو واحد من أكثر الرياضيين تأثيرا وشهرة في العالم، رسميا  دوره الجديد كسفير للعلامة التجارية العالمية تي سي أل، وهي الشركة الثالثة في العالم في صناعة التلفزيونات والعلامة التجارية الرائدة في صناعة السلع الاستهلاكية. وقد استهل نجم كرة القدم الشاب حملة العلامة التجارية الرياضية العالمية 2018 في حدث تم تنظيمه في مدينته ساو باولو.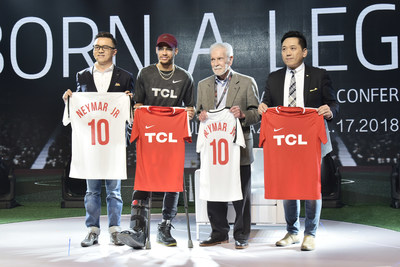 وكجزء من شراكته مع تي سي أل، يأتي نيمار جونيور بقوة بنجوميته وسماته الاستثنائية لمجتمع عالمي أوسع من أجل تقريب المعجبين بالماركة التجارية من بعضهم البعض.
وقال نيمار جونيور: "يشرفني أن أكون سفير العلامة التجارية العالمي لشركة تي سي أل.  إنني والعلامة التجارية نتشاطر قيما مشتركة، مثل السعي الدائم للتميز والنتائج الرائعة." وأضاف نيمار جونيور بالقول: "كما أني معجب أيضًا بمنتجات تي سي أل التي تتميز بالتكنولوجيا العالية والذكاء عندما رأيتها لأول مرة."
وقال كيفن وانغ، نائب الرئيس الأول لشركة تي سي أل والرئيس التنفيذي لشركة تي سي أل ملتيميديا: "هذا تمثيل مناسب تماما لشركة تي سي أل لأننا متحمسون جدًا للرياضة. سيتم دمج الشراكة مع نيمار جونيور بشكل كامل في العلامة التجارية العالمية واستراتيجيات التسويق العالمية لشركة تي سي  أل. نحن متحمسون للعمل مع نيمار جونيور، وأن نقدم للمستهلكين تجربة مشاهدة غامرة لتبني الألعاب الرياضية التي يحبونها هذا الصيف من خلال منتجاتنا التلفزيونية الذكية."
وقد اختبر نيمار جونيور منتجات تي سي أل الرائدة QLED TV X6، TCL 4k UHD TV P6، وغسالة تي سي أل الجديدة التي تعمل باللمس المقاومة للتلوث، وثلاجة تي سي أل المتكاملة العاكسة التي تعمل بتبريد الهواء، وسلسلة مكيف الهواء تي سمارت، وكذلك جهاز تنقية الهواء من تي سي أل أس 800، في هذا الحدث، وساعد في إطلاق مجموعة الحملات الإعلانية تي سي أل أكس نيمار جونيور.
وأطلقت الشركة مؤخرًا حملة إعلانية ضخمة في الهواء الطلق تحت عنوان "ولد أسطورة" واحتفلت بالشراكة في معالم عالمية مثل تايمز سكوير في نيويورك ومسرح هوليوود الصيني من تي سي أل وفي مواقع عبر الولايات المتحدة والمكسيك وفرنسا وألمانيا ايطاليا وبولندا والهند وفيتنام وتايلاند واستراليا والصين.
وستقوم الشركة قريبًا بإطلاق حملة فيديو حصرية مع نيمار جونيور، حيث سيجرب الرياضي العالمي عناصر أخرى من مجموعة منتجات تي سي أل الشاملة، بما في ذلك أجهزة التلفزيونات والغسالات والثلاجات والأجهزة المنزلية الأخرى.
استراتيجية موسعة للعلامة التجارية العالمية تستهدف المجتمع الرياضي
الشراكة مع نيمار جونيورهي  خطوة رئيسية في إستراتيجية العلامة التجارية العالمية  تي سي أل. وتتيح هذه الشراكة لتي سي ألفرصة الوصول إلى جمهور أوسع من عشاق الرياضة الشباب في جميع أنحاء العالم وستزيد من مكانة العلامة التجارية العالمية تي سي أل، مما يعزز صورة العلامة التجارية الدولية الشابة للشركة.
وقال كيفن وانغ: "تتمثل رؤيتنا في بناء شركة تي سي أل لتصبح شركة عالمية رائدة في مجال المنتجات الذكية وخدمات الإنترنت. إننا نربط بين عملائنا والريادة التكنولوجية المعززة وخبرات المنتجات الذكية والشراكات العالمية التي تناسب العلامة التجارية".
وقال شياوغوانغ جانغ، المدير العام لمركز إدارة العلامة التجارية لتي سي أل كوربوريشن: "الاستثمار في الأنشطة التسويقية للرياضة والترفيه هو أحد الركائز الأساسية في إستراتيجية العلامة التجارية العالمية لشركة تي سي أل. ومن بين شركائنا الرياضيين العالميين الآخرين فريقا أن بي أيه Minnesota Timberwolves and Lynx، واستاد روز باول الشهير، وفريق كرة القدم في ساو باولو San Jose Earthquakes، والاتحاد البرازيلي لكرة القدم (البرازيل)، ونادي روزاريو لكرة القدم المركزي (الأرجنتين)، ورابطة كرة السلة الفلبينية (الفلبين)، ونادي كأس ملبورن لكرة القدم، ونادي ملبورن فيكتوري لكرة القدم (أستراليا). كما نعمل مع شركاء صناعة الترفيه بما في ذلك مسرح  TCL Chinese Theatre، و The Ellen Show، وفيلم وارنر بروذرز  Justice League."
نمو الأعمال والتوقعات
وتعكس هذه الشراكة الأخيرة واستراتيجية العلامة التجارية الموسعة النمو المتسارع ورؤية الأعمال لتي سي أل.
وقال كيفن وانغ: "تواصل تي سي أل تعزيز وتوسيع أعمالنا في صناعة التلفزيون، مع استكشاف الفرص الجديدة من خلال الاستثمارات وعمليات الدمج والاستحواذ وإعادة الهيكلة. نخطط للحصول على التمايز من خلال إستراتيجية المنتجات المتطورة والمنتجات والتطبيقات الجديدة المبتكرة لخلق تجربة مستخدم أفضل بالمقارنة مع منتجاتنا الحالية."
في السنوات الثلاث المقبلة، تهدف تي سي أل إلى بناء مشروع تجاري إيكولوجي قائم على صناعة التلفزيونات الذكية، لتزويد المستخدمين بمنتجات وخدمات التلفزيون الذكية الرائعة.
واحتلت شركة تي سي أل المرتبة الثالثة في سوق تلفزيونات أل سي دي العالمية بحصة سوقية بلغت 10.9٪ في العام 2017، وفقًا لتقرير آي أتش أس وبيانات شحنات الشركة.
حول شركة تي سي أل
باعتبارها مجموعة شركات عالمية، فإن تي سي أل، التي يقع مقرها في الصين، والتي تأسست في العام 1981، هي شركة تصنيع المنتجات الذكية والشركة المزودة لخدمات تطبيقات الإنترنت. وإذ بدأت من تصنيع أشرطة التسجيل، دخلت تي سي أل في وقت لاحق صناعة الهواتف وأجهزة التلفزيون والهواتف المحمولة والثلاجات والغسالات ومكيفات الهواء والأجهزة الصغيرة وشاشات أل سي دي، وغيرها. في السنوات الأخيرة، شهدت العمليات التجارية الرئيسية لشركة تي سي أل نموًا مطردًا. على مدى السنوات الأربع الماضية، تجاوزت إيرادات الشركة مئة مليار يوان.
كانت تي سي أل رائدة في تدويل التجارة الصينية منذ العام 1999. وقد اجتازت بالفعل مراحل الاستكشاف المبكر وعمليات الاندماج والاستحواذ العابرة للحدود والنمو المطرد. في السنوات الأخيرة، واجهت التحدي المتمثل في تباطؤ النمو الاقتصادي الصيني، فضلا عن الفرص التي أوجدتها استراتيجية الطريق الواحد والحزام الواحد في البلاد، أعادت الشركة صياغة خارطة الطريق للتدويل.
في السنوات القادمة، ستستمر تي سي أل في تعزيز وتحسين حصتها في السوق في أوروبا والولايات المتحدة من خلال "ثلاث قوى مشتركة وقيادة العلامة التجارية"، بينما تقوم بتحقيق الاختراق أيضًا في أسواق ناشئة مهمة مختارة مثل الهند والبرازيل، كما أنها ترسخ جذورها في المنطقة المحلية.
الصورة: https://mma.prnewswire.com/media/678596/Neymar_Global_Brand_Ambassador_TCL.jpg